High degree of perfection impresses native speakers of English!
"I feel anxious to submit my English writing as it is. . . ."
For customers who have such concerns, professional native writers will refine your original texts.
Our experienced English DTP staff can also check your document's layout.

General Proofreading/Rewrite
We can also offer English proofreading only. Would you like our English native writers to improve your English sentences?
We meet the needs of customers who wish to have their English documents evaluated by native speakers.
Thorough proofreading optimized by Japanese and native staff

Our team of both Japanese and English professional checkers/proofreaders performs checking based on our own manual that was compiled to clarify the English writing rules. ILC provides highly accurate and effective proofreading.

We offer effective proposals to customers.

We not only point out errors, but also propose amendments in light of the context of the document. Our meticulous proofreading comments have been favorably accepted by customers.
Actual Proofreading Example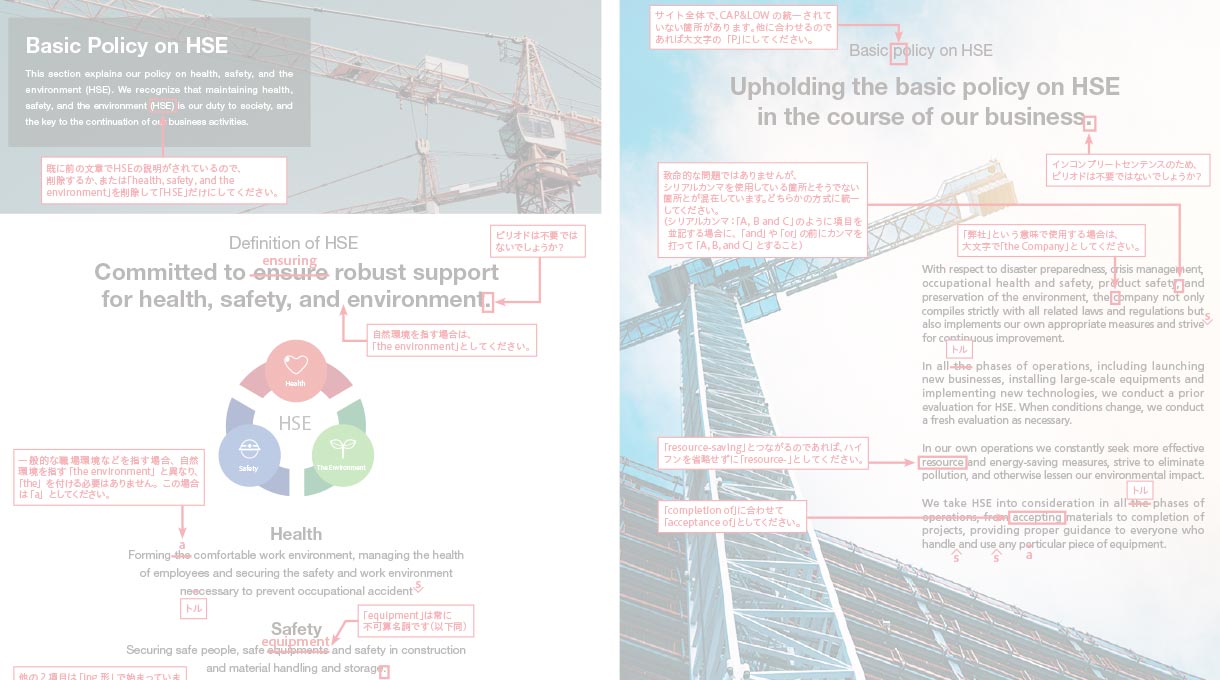 Basic Fee
Language
Fee
English
¥2,000– (per 150 English words) (plus ¥1,000 for one extra service*)
Chinese
(simplified and traditional)
¥2,000– (per 400 Chinese characters) (plus ¥1,000 for one extra service*)
Korean
¥2,000– (per 400 Korean characters) (plus ¥1,000 for one extra service*)
*The minimum fee for our proofreading service is ¥2,000/150 words (English) or ¥2,000/400 characters (Chinese and Korean). In this basic proofreading, we check only basic errors such as spelling errors and grammatical errors.
If you request a more detailed proofreading, additional two services are available: 1) Cross-check between the Japanese language text (source language) and the translated text, and 2) Rewrite of the translation.
Each extra service adds ¥1,000 to the minimum fee.
Example 1: Basic proofreading + cross-check with original Japanese text: ¥3,000/150 words or 400 characters
Example 2: Basic proofreading + cross-check with original Japanese text + rewrite of the translation: ¥4,000/150 words or 400 characters

Medical Proofreading/Rewrite
Proofreading of medical papers is not only a matter of English ability.
At ILC, native writers who are qualified as M.D. (Medical Doctor) will rewrite papers on highly specialized medical fields.
Support highly specialized medical documents

Please entrust us with the proofreading of highly specialized medical papers. We will provide accurate checking and unification of terminology.

Deep proofreading beyond a mere grammatical and spelling check

We perform an in-depth proofreading for a medical paper, checking its compliance with international standards for thesis writing and its logical validity and sentence fluency as an English dissertation on a medical subject.
Actual Proofreading Example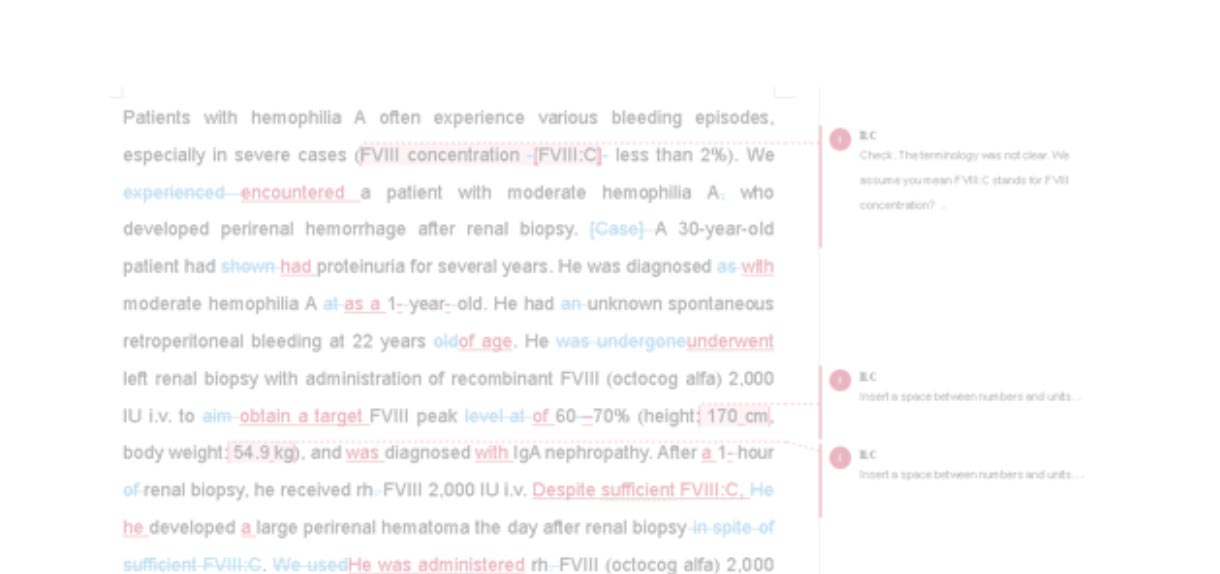 Basic Fee
| English proofreading | Fee |
| --- | --- |
| 150 words | Please ask us for the detail. |

English Document Layout Improvement
We can accept your order for layout improvement only.
We offer careful proofreading on the basis of the English DTP rules.
Reliable layout checking capabilities based on the experience and expertise concerning English DTP

There are rules for English document writing that are different from those for Japanese. It is impossible to master the necessary skills to create readable documents for English native readers in a brief space of time. At ILC, experienced DTP operators provide document checking services.

Quality that satisfies the end users

Would you like to give a good impression and sense of trust to the intended readers of the produced document? Our English proofreading service responds sincerely to your requests.
Basic Fee
| English document layout proofreading | Fee |
| --- | --- |
| Document 1 page | ¥1,000– |
Flow of Proofreading and Layout Improvement
Our experienced checkers and DTP operators perform checking according to the English DTP rules.
You can request our bundled services of English proofreading plus layout improvement.
We also welcome your request for the integrated package of [translation → proofreading → DTP → layout improvement].
Step 1

Estimate

Please inform us of the following information from the Estimate form. If we require any confirmation regarding the document or layout data to be checked, we will contact the customer. We will submit an estimate by e-mail. Please confirm the estimate and place your order.

• Language of the document or data to be checked (e.g., English)
• Source document (Word, PDF, etc.) (If text proofreading)
(If unavailable, please tell us the number of characters (Japanese, Chinese, Korean, etc.) or the number of words (English, etc.) of the text.)
• Comprehensive layout data (PDF, etc.) (If layout improvement)
(The original editable data (InDesign, Illustrator, etc.) need to be supplied after an order is confirmed.)
• Desired delivery and budget (if necessary)

Step 2

Proofreading/layout improvement

Text proofreading: Japanese checkers and native language checkers check the customer-supplied document and rewrite it as necessary.

Layout improvement: Our seasoned DTP operators perform layout improvement using the customer-supplied original data (InDesign, Illustrator, etc.). (If supplied with only a comprehensive layout in a format such as PDF, necessary instructions are written on it directly.)

Step 3

Delivery

After obtaining the customer's approval, we will transmit our invoice.
Request for Proofreading/Layout Improvement Estimate
If you request an estimate, please contact us using the Estimate form
and attach the source document or data for a prompt estimate.